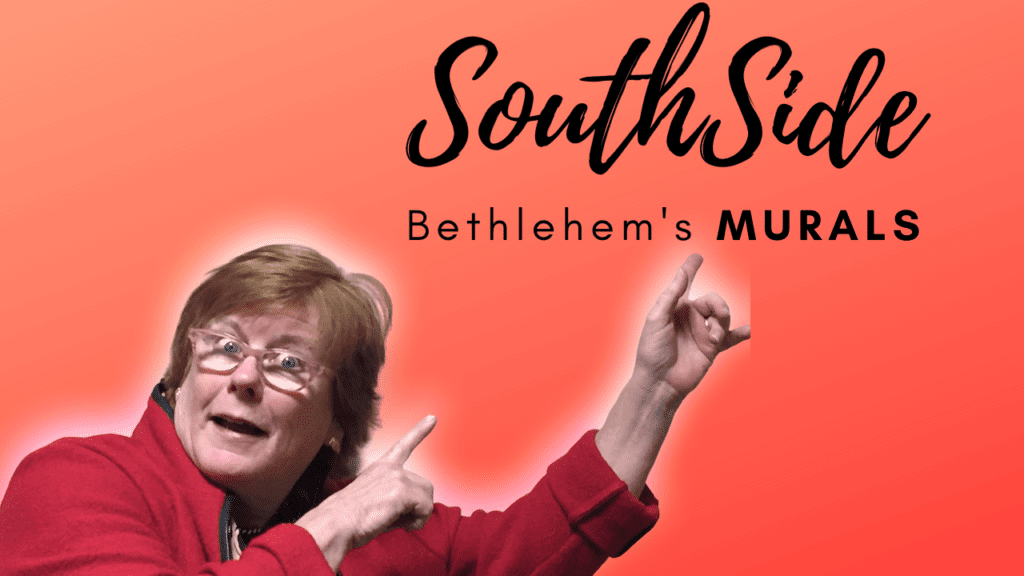 Wathc the video on: https://youtu.be/GqmTQzMWwlA
Welcome to the art of Bethlehem!
At the first major intersection is a mural by a local artist named Matt Halm.  His mural is appropriately called "Southbound" and today we're going to start on the southside of town.
Right around the corner is "Steelworker" by a collective of local artists named, Dripped On The Road. The work pays homage to the men and women who worked in Bethlehem Steel plant for generations. The artist group is lead by Lehigh University grad, named Denton Burrows.
And just up the street is a work by Joseph Iacona. It's called "Southside Proud". His work speaks to the community of sharing and why citizens are proud to live on the southside of the City of Bethlehem.
And around the side of Taylor Street, The Bonn Place Brewing Company is wrapped in a beautiful mural painted by local artist Amy Perdue. And as the camera moves turns the corner, you'll see other artwork (by Denton Burrows) that pays homage to brewing, festivities, fun, community and just having a good time.
Up on Hayes Street is a mural painted by Ramiro Davaro-Comas. This entire mural was painted on the flat side of a building, but if you'll notice up towards the top it appears that there is a roof line with someone peeking out of a window; all of which don't exist. The artist's use of trompe l'oeil is truly magical.
Then we went up on Broad Street on the north side of town to see another beautiful mural by Matt Halm. It's been painted on the side of Christmas City Veterinary Hospital. The mural curves around the corner of the building to include another fun surprise.
Back on the Southside at the corner of Hayes Street is a traditional phone booth which has been painted brightly and beautifully by Devyn Leonor Briggs. Then over on Third and New Street is another mural by Devyn Briggs. The mural reflects "a desire to develop a community that embraces economic opportunity with cultural diversity as a foundation."
Up on the street on the side of Café The Lodge, is "Calma" by Pau Quintanajornet. This artist is from Chile and was raised in Germany. Her work of art was completed in Pau's signature style while highlighting Café The Lodge's mission which is focused on mental health recovery.