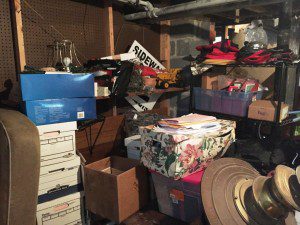 When to Downsize Your Home
Are you like me?  Are you  starting to ask yourself when to downsize your home? Or perhaps you are helping Mom & Dad move, and you have to get the old homestead ready for sale.  Both situations are the same because all of us are trying to answer the same question, "How do I fit 10 pounds of stuff in a 5 pound bag?"
I'm not quiet ready to move yet but I am starting to think about the prospects of moving us into a smaller space.  This is exactly the time when you start to downsize! The minute you start to think about downsizing is the minute you begin to downsize.  It will take some time so you might as well start now.
Remember when you moved into your first apartment?  I remember when I was single again after my first marriage fell apart, I TRAVELED LIGHT!  I didn't have much stuff.  I had one bed, one couch & a chair, one dresser,  a few boxes of kitchen utensils plus the bathroom towels & shower curtain and a trunk full of clothes.  30+ years later, I'm not traveling as light anymore.  I have spent years using lots of time and energy and money filling up a 3 bedroom 2 bathroom home.  The closets are overflowing, the basement is full and everywhere I turn each room is full of furniture. It's beautiful and it makes me happy and satisfies me but….Hmmm, what to do with all of the stuff?
Before you move or downsize tip: You must give yourself permission to get rid of things. This is a huge decision.  Give yourself permission to say good bye to items that you have spent your life collecting.  I will ask my children what they want to take.  I will give them things that they may not need or want just yet.  In the case of moving Mom & Dad,  invite family members to take the items that they want and that will lighten the load.  Tip: Set a deadline with family and friends; Tell them if the item is not moved or picked up by (a date) then it will be disposed of and stick to the plan.
In the book, The Life-Changing Magic of Tidying Up: The Japanese Art of Decluttering  and Organizing by Marie Kondo the author writes that if an item no longer brings you joy then it's time to let it go from your life.  She instructs us to thank the item for supplying its joy to us at one time in life and then release it so that it can/will bring joy to someone else.  This main idea took away my guilt when it was time to get rid of items and beloved processions.   When I first started downsizing I started in my closet after reading this book.  I removed almost 3/4 of my clothes…. you know the ones that you can no longer fit into…the ones that you have been hanging onto for YEARS….or the ones that have long gone out of style….or the clothes that still have tags one them.
Downsizing Your Home With Style
Downsizing your home with style doesn't have to be costly.  Sometimes it can be as simple as a new color of paint or a new set of curtains or removing wallpaper or a few new decorative pillows on the couch.  But it does take some planning and a little throwing away and a little rearranging.
Tip:  First things first,  draw out your floor plan and select the furniture that will fit into that floor plan.  What will fit and what will not?  Imagine your new location.  How much and which furniture will fit into that space?  Ask yourself if you really want to take this same furniture or perhaps use this time to buy a new couch or chair or bedroom suit.  How many closets will you have?  How much clothing will fit into that closet? How big are the rooms?  Don't forget your artwork!
Not all of your furniture needs to go into the same room as it was in the old house.  Perhaps a chest of dresser drawers could be re-purposed in the living room to hold the television. Get creative and move items into new arrangements and into new rooms. There are no real rules about where something needs to be placed.  If you don't like it, move it again until the placement makes you happy.
Simple ways to give your rooms new style is easiest by changing the color of the walls.  Complement the new color with accent pillows.  The pillows on your sofa could be the only items that change that make the room look different.  The little spot of color will pull the eye from one thing to another.
Another change could be the artwork.  Find an inexpensive piece with new colors that will change up the color in the room. Even a new or different area rug will change things. Not everything has to be new.  Many times you can use what you already have and re-purpose it in another room
How to Downsize When Moving
Once the idea of where the placement of furniture will be in the new place you will start the process of moving and getting rid of the belongings that won't fit into the new space.
Photographs can be scanned and put on the computer.  Or try your hand at scrapbooking.  If you can't bring yourself to throw out the actual photo then send it back to the person who is in the photo after you have scanned it into your computer.  Perhaps they don't have a copy of the photo which you are sending and it will be a nice gift.
An auction can be held at the property or more conveniently at the auction house.  Here in the Lehigh Valley there are many auction houses that are capable of taking away items to be sold.  A few local auctioneers are Tom Hall Auctions,  Alderfer Auction & Appraisal,  Dotta Auction just to name a few.  An auctioneer will charge a percentage of the sale as their commission or fee.  They need to get paid for their time and effort.  They will charge you to pack your items into a truck and take them to the auction house.
I have been introduced to a ON-LINE auction company called MaxSold which  I think is an amazing concept. It's a combination of auction and estate sale wrapped into one and the auction is played out on the internet. No strangers come to your residence.  Everyone bids on line.  Here's how it works: You pay an upfront charge to have the MaxSold representative come into the house to price, photo and arrange everything into box lots.  The box lots are photographed and uploaded onto the MaxSold website. An worldwide online auction is scheduled and takes place of YOUR items.  If a box lot or item is bid higher at the last minute (as often happens in a live auction) then the auction continues for another two minutes until the last and highest bid has  been made. Items are paid for at once by credit card – so you get your money at once and don't have to worry about bounced checks.  Once the items are sold the MaxSold representative comes back to the house on the "pick up day" to orchestrate the retrieval of all sold items by customers.  So there is no mix-matching of the wrong person getting the wrong box etc.  MaxSold does take a percentage of the proceeds as payment.  It is amazing what will and can be sold in the box lots…things like household cleaners,  old knickknacks, rolls of paper towels…items that would never sell individually in a traditional auction and it's all because there is always an item of value in the box.  If there is anything left over, you would be need to have it disposed of.
Another way to downsize while moving is to have an estate sale.  This is like a week long yardsale.  A estate company is hired to come in and price everything , advertise the sale and complete the sale.  Many companies will dispose of what is left and not sold after the sale.  Both auctions and estate sales are a good way to offset the cost of moving  and avoiding filling up our landfills with furniture and household items.
Donating items is always a great way to make your belongings go away.  Because the baby boomer generation is so large & aging and downsizing at the same time there is a great deal of used furniture on the market. So some weeks an auction house will be over stocked with furniture just like yours.  Meaning that you may not get a whole lot of money for the furniture and items at auction.  Local non-profits need your items. Donation may be the way to go.  Your generosity could help someone else in their time of need. Building materials can be donated to Habitat Lehigh Valley ReStore.  There are two local locations here in the Lehigh Valley.  Habitat For Humanity does great things for working families in need of reasonably priced housing!  The proceeds from the sale of items at the store help Habitat for Humanity to provide the mortgages for these homes. Via of the LehighValley has two locations where you can donate items.  Via will also come and pick up items that you want to donate.  My husband and I have used Purple Heart for donating items.  This is a organization which picks up and resells the items and all of the proceed go to help service men & women and their families. Also, bed linens and mattresses can be donated to shelters for the homeless or halfway houses helping to get people back on their feet. Call first places like The Victory House or New Bethany Ministries or The Allentown Rescue Mission they will tell you what they need.
And if all of this is too overwhelming, as it sometime is.  Or if you do not have the time or the energy to do any of this yourself.  Or if you are out of state, call a Senior Move Manager.  Senior Move Managers are people who specialize in helping you do everything that has been mentioned above.  One Senior Move Manager who I would recommend is Jill Duffey Kearney from Senior Moves by Design,  she and her dynamic team can help you do any and all of the above.  I have worked with Jill on many occasions and I can tell you Jill gets the job done!
Another way to sell your processions is by opening an Ebay account or a Craig's List account.  Both are internet pages/companies where you can post a photo of your item and sell it in an auction format or as a "buy it now" scenario.  This is a slower way to turn your possessions into cash but they are both pretty easy ways to do it.  My husband & I just used Craig's List to sell a bike rack. We sold it for a fair price and the buyer came to pick up the item.  With Ebay you do have to figure out the web site and ship the item to where ever the buyer is.  It does take some practice but it is a great way to turn your items into cash.  A friend of mine has made a fine living over the past few years downsizing & selling her possessions.
In conclusion, it's a lot of work to downsize so get started NOW!   And if you can't do it alone, call me, I help many people though this process.  I can put you in touch with a network of people who will also help, movers, haulers, packers. estate people…you name it I have a go-to person who can help .
Once you do start to downsize you will feel like the weight of the world starting to lift from your shoulders.  And as you lighten your load of belongings you will discover the feeling of freedom that it brings.
Unencumbered is a wonderful word for it.  Enjoy!!
If you are considering selling your home, please contact me for a FREE Comparative Market Analysis.  My direct number is 610-417-1174
Open modal