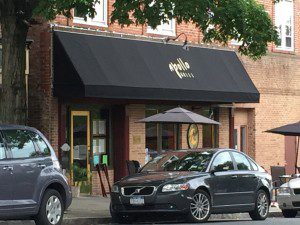 This is an easy review to write because whether you are eating lunch or dinner, The Apollo Grill is a delicious restaurant where you can enjoy a very nice meal in a causal atmosphere.   You can't go wrong by choosing this restaurant because the service and the food are always top notch.  The lunch and dinner menu are filled with favorites however every day a chef's special which will tempt you to go off-menu.
The Lunch menu is always poised to please.  You can enjoy half portions of most any item on the menu.  Daily lunch specials are always offered.  The crab cakes are always good every time that I order them.   Or the Quesadillas make a nice meal with a salad.  You can't go wrong with the Buffalo Beer Battered Shrimp or the Asian Lettuce Wraps.  If you are overwhelmed with all of the choices at lunch, I recommend the soup and the salad combo as a good fall back item.  Accompanied by a generous basket of a variety of bread – the Apollo Caesar salad or the Mesclun Greens with vegetables both are ample in size and the bowl of soup is always delicious.  No matter whether you choose the Baked French Onion Soup or the Crab & Asparagus Bisque – you can't make a bad choice.  The Soup de Jour is always marvelous.  The chef's soup creation compliments the time of year and includes seasonal ingredients when it is served!
The Diner entrees are scrumptious and plentiful.  The meat selections; beef, lamb, fish or chicken are always done to perfection.  But if you are in the mood to taste more than one dish or if you want to share a variety of selections with someone else at your table, you can do this at the Apollo.  The ingenious menu is split into full and half portions.  So it is a great way to try a variety of specialties in one sitting. Graze through the menu!
But don't leave without eating dessert!
And don't forget BRUNCH either!!  Served on either Saturday or Sunday you can enjoy a delicious choice of entrées and signature Bloody Marys or a bubbly Mimosa.
The service and the atmosphere are consistent.  The bar crowd is lively while the dining room is quiet.   You won't be disappointed by The Apollo Grill's service or the food.  This is one of my favorite restaurants in town.
Be sure to make reservations, especially if want to dine on a busy weekend night or during the Holidays.  The restaurant is closed on Sundays and Mondays.  The hours of operation generally from 11am to 10pm.
Call to make reservations:  610-865-9600 and visit www.The Apollo Grill.com